What is the Flipped Science Fair? 
The Flipped Science Fair (FSF) flips the traditional science 
fair format on its head: middle school student judges 
evaluate graduate students and postdocs presenting their 
current research.
Virtual Setting: Flipped Science Fair Versus
We've adapted Flipped Science Fair to an online platform 
and added an exciting twist: head-to-head science-talk 
battles! In this new "Main Event" format, complete with 
the exchange of good-hearted taunts, riffs and raffs, two 
Yale scientists present compelling talks to an online 
middle school audience, who serve as our Judges. Talks 
are judged based on student understanding and learning, 
and, after a grilling audience question session, a "Main 
Event Champion" is crowned. Thus far, our new Flipped 
Science Fair V.S. format averages an attendance of 
~150-200 students per event, and has become an 
exciting opportunity for Yale scientists and middle 
schoolers to learn and grow in a fun and engaging 
environment.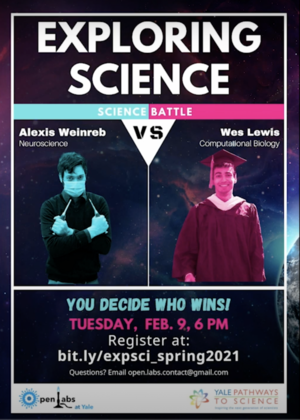 In-Person Setting: Flipped Science Fair
Middle school students learn about cutting-edge research 
from real Yale scientists in a small-group setting, with 
plenty of opportunities to ask questions and participate in 
hands-on demonstrations. The presenters learn to tailor 
their research pitch to a general audience, with emphasis 
on keeping things exciting, understandable, and relevant. 
Our partnership with Pathways to Science, Yale's 
coordinated STEM outreach infrastructure, enables long 
term tracking of student outcomes to measure the FSF's 
effectiveness. Flipped Science Fair was inspired by 
the Kid's Judge Neuroscience Fair at UPenn.
Why "flipped"? 
The Flipped Science Fair is unique in that it flips the 
traditional power structure of a science outreach event by 
giving middle schoolers the role of "judges."  Students 
have many opportunities to participate in didactic 
learning and attempt scientific projects of their own, 
but rarely, if ever, can they engage with scientists as 
peers.  Even more, scientists do not often have access or 
training to present their work to a general audience. The 
Flipped Science Fair gives everyone involved a chance to 
interact in a new and constructive setting that trains 
them with valuable skills for their future.
How do I get involved?
If you're a middle school student or parent, you'll be able 
to sign up for the Flipped Science Fair via Pathways to 
Science! If you're a Yale scientist, reach out by email to 
Heather or Eli sign-up or get info. To watch some of our 
past events, visit us here. You can also follow us on 
Facebook and Twitter!
Who supports the Flipped Science Fair? 
The Flipped Science Fair has been supported by training 
grants and programs across Yale University, and by 
community partners. In 2021, Flipped Science Fair won a 
Research!America grant to recruit new presenters and 
support their development.
How can I bring Flipped Science Fair to my institution?
We're happy to share our experience! Just 
email us
 to 
connect!